The Russian Revolution and the Indian Freedom Struggle
The Russian Revolution and the Indian Freedom Struggle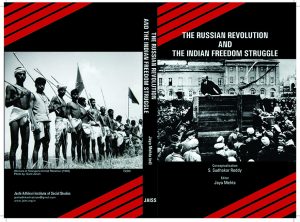 On the occasion of centenary year of Russian revolution, a book was conceptualised by Com. S. Sudhakar Reddy, edited by Jaya Mehta and published by Joshi-Adhikari Institute of Social Studies, Delhi.
The book was released by Com. Gurudas Dasgupta on 24th April, 2018 in an event organised by Prabhath Books at Kollam, Kerala, a day before the 23rd Party Congress of CPI began. Along with this other books written by of Com. Binoy Biswam, Com. C. Divakaran, Com. P. S. Suresh and Vineet Tiwari, myself were also released.
About the book:
This book is a collection of articles that connect two great world revolutionary movements, the Russian Revolution and the Indian anti-colonial struggle. The articles are written by veteran leaders of Communist Party of India and published at different times in New Age, the central organ of the party (except for the articles of Lenin, M. N. Roy and Prabhat Patnaik).
The articles reflect the thinking and practice of the leadership, how it was influenced by the ideas of the Russian Revolution and how it adapted to local conditions in its struggle against British rule in India.
The book is a result of collective efforts of many comrades. The invaluable help provided by Comrade Balakrisna Nair (Balan), Archishman Raju, Vineet Tiwari, Dr. C. Sadasiva, Nandita Chaturvedi, Vivek Sharma, Sourav Banerjee, Dr. Koninika Ray, Kritika and Anuja Rajan. Ashutosh Singh Rajput helped design the covers. The book layout and design is done by Dhruv Narayan of Janam Foundation.
The book can be ordered at joshiadhikariinstitute@gmail.com at the contribution of Rs. 300 per copy and postage charge.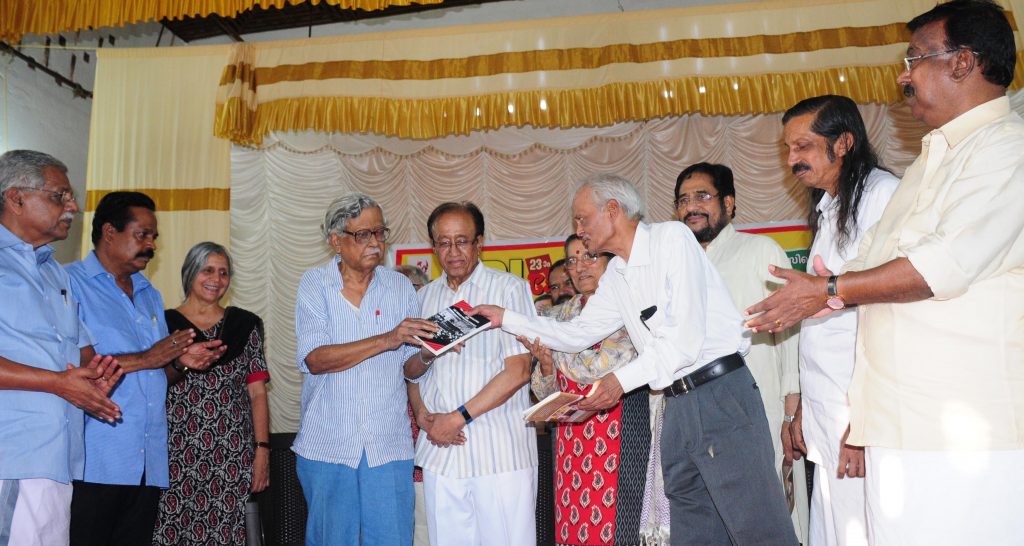 In photo(from left): Com N. Anirudhan, (District Council Secretary Kollam), S. Hanifa Rowther (General Manager, Prabhath Books), Dr. Jaya Mehta (Economist and Editor of the book), Com. Gurudas Dasgupta (CPI Veteran leader and trade unionist), Com. S. Sudhakar Reddy (General Secretary, CPI), Com. Amarjeet Kaur (General Secretary, AITUC), Behind her I found myself, Com. Shameem Faizee (Editor, New Age), Com. Atul Kumar Anjaan(General Secretary, All India Kisan Sabha), Com. Pannian Ravindran (Chairmanm Central Control Commission), Com. C. Divakaran (Chairman of Prabhath Books and Ex Minister of Food and Civil Supplies). P. S. Suresh (Resident Editor of Janayugom, Kollam) and Dr. Vallikavu Mohandas were also present on the dias but they are hidden behind.